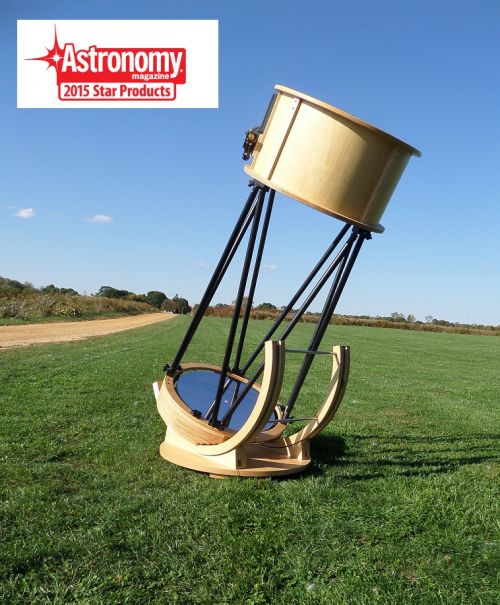 Astronomy magazine names Waite Research's Renegade telescope a top astro product of 2015. The 20" Renegade telescope offers fabulous viewing without climbing a ladder.
You must install Adobe Flash to view this content.
Please contact us today for availability on our premium telescope mirrors.
Waite Research Debuts New Renegade 20" Newtonian Telescope at Northeast Astronomy Forum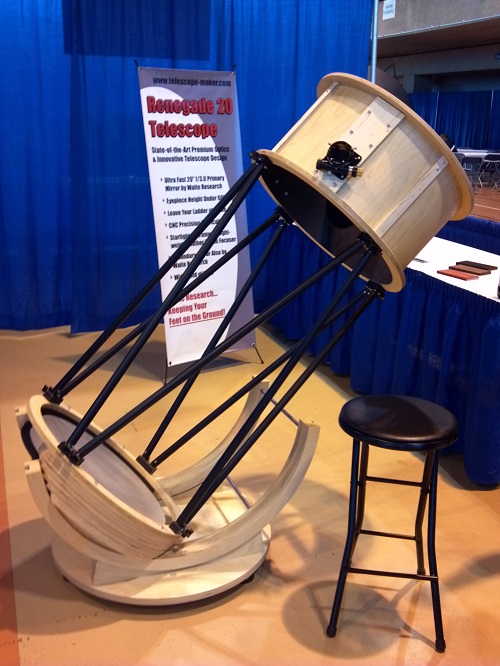 Precision optical components and revolutionary "feet-on-the-ground" design for ultimate performance.
April 20, 2013--With the introduction of their Renegade 20" f/3.0 reflector, Waite Research has expanded from the fabrication of precision telescope mirrors into the manufacture of complete Newtonian telescope systems.  The new telescope features their ultra-short 20" f/3.0 primary mirrors and their own 5" secondary mirrors.  These optical components are integrated into a Dobsonian-style telescope body that is also manufactured in their New Jersey facility.
"We've spent ten years developing these super-fast primary mirrors, and they allow us to build a 20-inch telescope that observers can use without the need for a ladder", says Gordon Waite, designer of the new telescope.  "Our new ultra-short mirror gives an eyepiece height under five feet at the zenith.  And many objects can be viewed while sitting in an observing chair."
The Waite Research Renegade 20 telescopes are priced starting at $9,995. Visit the web at www.waiteresearch.com for more information.